New Aircraft Colour Scheme
22/01/2019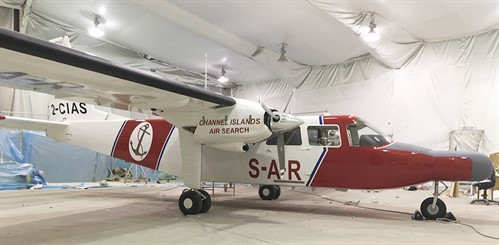 For almost 40 years the aircraft has been seen and recognised in the Channel Islands area with its distinctive yellow theme. Our latest generation Britten Norman Islander will be following the Internationally recognised Coast Guard scheme of Red and White.  We will still carry the Lions International decal on the tailplane in recognition of the original sponsor of our first aircraft. Also included will be the fouled anchor emblem on the fuselage.  There will also be technical elements to the scheme using matt black and matt grey.
As well as being immediately recognised as a search aircraft by other assets and when visiting other airfields, the colour have also been professionally acknowledged as being most easily seen from the sea and the land.
The procurement team visited the paint-shop on Saturday to approve the work which was completed yesterday. The aircraft will be flown back to Lee on Solent from Bournemouth on Tuesday afternoon. The aircraft will then complete its internal fit and the search equipment will be installed.