40th Anniversary Prize Draw
01/05/2020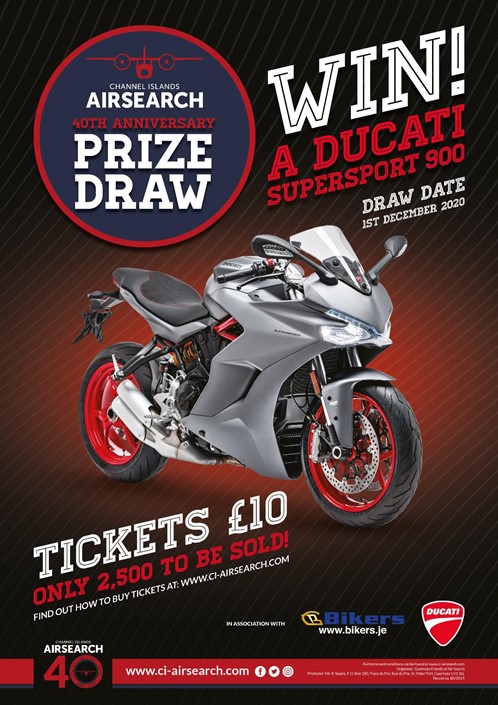 **UPDATE**
The winner was ticket number 0456.
2020 is our 40th anniversary and to help mark it, the Guernsey Friends have launched a prize draw to win a brand new Ducati Supersport 900.  The draw is in association with Bikers Jersey and Ducati. 2500 tickets are available at £10 per ticket, and the draw takes place on 1 December.
Tickets are widely available in Guernsey, including at BATIF Bureau de Change and Envoy House Post Office, and from several other local businesses: Cobo Service Station, Fitzgeralds, Forest Road Garage, Grande Mare Golf Shop, Nelio's Deli, Northern Motor Works, Patois Brasserie, Rohais Motor Centre, Target, Vale Garage forecourt and Vistas.
Any questions, please contact Bob Twist on bobtwist@cwgsy.net, or 07781 106705 (any day, but after 5pm on weekdays please).
The terms and conditions of this draw are:
2500 tickets are available at £10 per ticket.
There is one prize only: a Ducati Supersport 900 in silver (as depicted on draw tickets).
There is no cash alternative.  There is no option to sell the motorbike back to Bikers of Jersey.
The States of Guernsey Committee for Home Affairs have granted a Private Lottery Permit (no. 80/2019) for the draw.  Tickets may only be sold in the Bailiwick of Guernsey.  The name and address of the promoter are shown on the tickets.
The planned draw date is 1 December 2020. The winning ticket number will be posted on www.ci-airsearch.com and on Channel Islands Air Search social media accounts.
The Guernsey Friends of Air Search reserve the right to change the draw date.  Should it be deemed necessary for the draw date to be deferred, notification of this will be posted on www.ci-airsearch.com and on the Channel Islands Air Search Facebook page.
The winner is deemed to be the person named on the counterfoil of the winning ticket.
The winner must provide their details in order to have the bike registered within seven days of the date of the draw. Failure to do this will result in a re-draw.
If the winner is not resident in Guernsey, they are responsible for shipping costs, and all import taxes and other associated costs, if applicable.