40th Anniversary Prize Draw
01/05/2020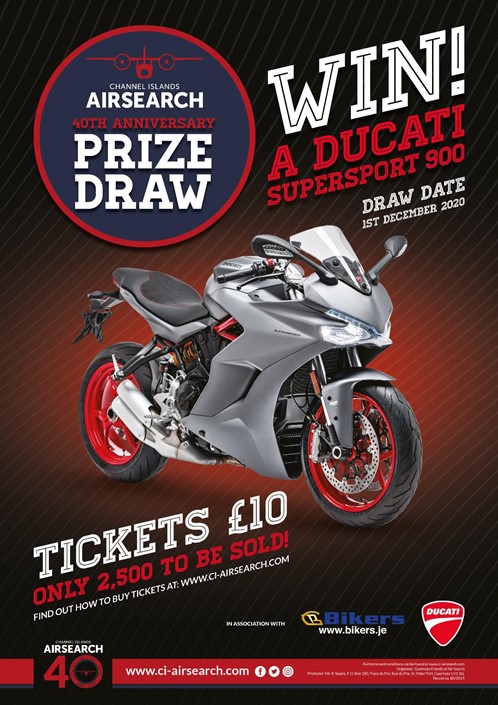 2020 is our 40th anniversary and to help mark it, the Guernsey Friends have launched a prize draw to win a brand new Ducati Supersport 900.  The draw is in association with Bikers Jersey and Ducati. 2500 tickets are available at £10 per ticket, and the draw takes place on 1 December.
Tickets will be widely available once lockdown restrictions are eased, but in the meantime you can ensure that you don't miss out on the opportunity of buying a ticket by following the simple steps below to pay by card (debit card preferred, as this helps keep costs down). Please ensure you forward your confirmation by email to Bob, as shown below. We cannot issue your ticket(s) purely on the donation as we won't have any contact details.
Ensure that you have read the Terms & Conditions below
Enter the amount you wish to pay (£10 per ticket)
For privacy you may wish to tick the 'hide amount' and 'anonymous' boxes.  Do not enter any personal information in the 'message' box.
Select 'Donate by Bank Card (ePDQ)' [NB do not use the internet banking option - this is just a pledge and we have no immediate way of confirming that you have made payment as giving.gg only review payments on a monthly basis]

Forward your payment confirmation email to bobtwist@cwgsy.net advising your name and (most importantly) a contact telephone number

. By return you will then receive an email with a photo of your ticket with your information entered on the counterfoil.
We are unable to post tickets under the terms of the raffle permit, but physical tickets will be available for collection in due course - details of locations will be posted here, and on our social media accounts.
Any questions, please contact Bob Twist on 07781 106705 (any day, but after 5pm on weekdays please).
The terms and conditions of this draw are:
2500 tickets are available at £10 per ticket.
There is one prize only: a Ducati Supersport 900 in silver (as depicted on draw tickets).
There is no cash alternative.  There is no option to sell the motorbike back to Bikers of Jersey.
The States of Guernsey Committee for Home Affairs have granted a Private Lottery Permit (no. 80/2019) for the draw.  Tickets may only be sold in the Bailiwick of Guernsey.  The name and address of the promoter are shown on the tickets.
The planned draw date is 1 December 2020. The winning ticket number will be posted on www.ci-airsearch.com and on Channel Islands Air Search social media accounts.
The Guernsey Friends of Air Search reserve the right to change the draw date.  Should it be deemed necessary for the draw date to be deferred, notification of this will be posted on www.ci-airsearch.com and on the Channel Islands Air Search Facebook page.
The winner is deemed to be the person named on the counterfoil of the winning ticket.
The winner must provide their details in order to have the bike registered within seven days of the date of the draw. Failure to do this will result in a re-draw.
If the winner is not resident in Guernsey, they are responsible for shipping costs, and all import taxes and other associated costs, if applicable.